About Us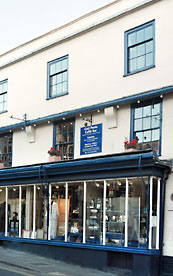 Ceci Paolo is a culinary and lifestyle emporium with Mediterranean and Oriental flavours based in the charming, historic market town of Ledbury, Herefordshire. Housed in a revitalised 16th Century timbered building, the store paved the way in the '90s for the establishment in the town of a fine collection of individual, "real" shops, attracting visitors from far and wide. The business was founded and designed by Patricia Harrison, an Australian who has worked internationally for over 30 years, but whose life-long subliminal dream was to open a shop. And not just any shop but one that offers a feeling of excitement and anticipation as soon as you enter it. The store is dedicated to celebrating and sharing her love and enjoyment of food, wine, clothing and beautiful, stylish but useful objects for the home. Since 2007 many of the store's exciting products have been available to buy online through our website www.cecipaolo.com
Clothing and Accessories
The exquisite clothes ranges have several things in common – they are stylish, comfortable, generous, exceptionally well-made, mainly in natural fabrics, and, being designed for real women, are fashionable while at the same time being beyond fashion. Brands include Yacco Maricard, Oyuna, Bianco Levrin, Two Danes, Ralston, Neeru Kumar, Moyuru and a stunning collection from the TM Collection of Portugal. New this year are Alembika, Kokomarina and Jagoda Kursa. To complement the clothes there are great accessories, such as hats, delicate silk shawls, hand bags, shoes and jewellery, mainly one-off pieces made by artisanal jewellery designers.
Oriental Style
A unique collection of antique and modern Japanese and Chinese furniture, screens, ceramics, lacquer ware, kimono, pictures and smaller pieces intermingles with the clothing. Classic and modern lighting, as well as oriental lanterns, illuminate the store and are available to buy.
Delicatessen
Specialising in Mediterranean & Oriental ingredients, bought fresh and seasonally, as well as hard-to-find ingredients, coupled with advice on how to use them. All products are carefully selected from only the best and often small producers. You will find everything from salads, sandwiches, tarts and cakes, all made daily on the premises, to melt-in-your-mouth buffalo mozzarella; around 30 mainly artisanal cheeses; cured meats; local artisanal breads; and the best there is to offer in olive oils and a carefully selected range of Italian, Australian and New Zealand wines.
Kitchen, Home and Lifestyle
Together with "The Kitchen Cupboard", a speciality cookware shop that is a tenant within our building, we stock everything you could need for your kitchen under one roof. The table top is well catered for with Riedel glassware and ceramics from local designers as well as Burma, China, Thailand, Vietnam and Japan. Kitchenware is strongly design-based, drawing predominantly on the best Scandinavian, Australian, German, British, American, Italian and Japanese designers. Products for shopping, travel, work and play all have their own sections. With storage such an important part of our busy and cluttered lives, Reisenthel Accessories offers a huge range of practical, ecofriendly and reasonably priced solutions. Gifts are well thought-out and unusual whether they're stationery, gadgets or just plain good ideas. The product selection is always evolving and provides constant interest for customers.
---